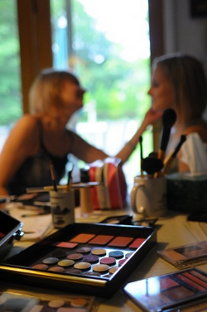 Jodie Hawk originally studied to become a graphic artist. She began her artistic training at the Maryland Institute College of Art in Baltimore, MD. After working in advertising, design, and production, as well as teaching calligraphy, she developed her interest in art as it related to beauty. She began working for Estée Lauder as a beauty advisor and then for Lancôme as a resident make-up artist at Saks Fifth Avenue. Eventually, she joined the Lancôme team at Neiman Marcus as a make up artist and continued there for 16 years. Currently, she see clients in her "It's More Than Make Up" home studio as well as traveling to their locations. In addition, she also volunteers instructing cancer patients, in make up application, in the Look Good Feel Better program.
She has also trained with Lancôme's former National Artistic Director, Ross Burton, and worked on his Pro Team of artists who assist him during national make up events in specialty and department stores in the Baltimore/Washington area.
Since 2003, Jodie has also worked in the cosmetic dermatology field doing post procedure make up. With her artistic training and almost 20 years of experience in the beauty field, Jodie achieves her distinctive natural makeup style by applying artistic concepts to the human face.
She uses color, shape and light to achieve the result of enhanced, natural beauty; her signature look is a fresh, polished face, rather than a "made up" one.