My mission to enhance beauty using cosmetics goes back to childhood, when I first explored fashion, forms and color, by spending hours drawing paper dolls with complete wardrobes. I loved all things having to do with glamour, fashion and beauty: clothes, shoes, jewelry, handbags, but most of all make up.
As a teenager, I enjoyed spending weekends at my best friend's house, where we would practice our make up skills. We were constantly applying and removing makeup; until all the tissues and toilet paper were gone and we could do a perfectly lined eye.
Art and fashion came together for me in high school. Painting, woodcarving, pottery… anything artistic was my favorite subject. At the same time, the British fashion model, Twiggy, became a style icon. According to Wikipedia: "Known for the high fashion modlook created by Mary Quant, Twiggy changed the world of fashion with her short-haired androgynous look. She was also famous for drawing long, fake eyelashes under her bottom lashes." And of course I had my hair cut short like hers and was gluing false lashes on the top, shadowing the heavy contour and painting those lashes under my eyes just like her!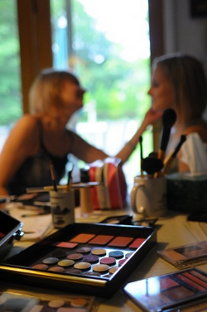 As you can tell, I've gravitated toward art, beauty and fashion my entire life, though my ambitions have taken many forms. For a time I dreamed of being a fashion illustrator. I attended the Maryland Institute College of Art and I worked in the graphic arts field, in advertising. I've designed ads and done layout/paste up and camera production work for printing companies. I especially loved the lettering course that I took at MICA and did a lot of freelance calligraphy work (invitations and menus as well as illuminated manuscript), eventually teaching calligraphy courses to adults and seniors through a local high school and college extension program. I discovered that I loved teaching – to share what I know with others and watch as others learn is such a blessing!
In 1990, I went off in a new artistic direction that I've loved and been committed to ever since. I was such a constant client at my favorite department store make up counter, including attending every event they held, that the staff joked that I should work there. The rest is history. I eventually stopped teaching to work in cosmetics full time.
My artistic ability was naturally re-directed to make up in some ways because I have always loved the art of painting the face. Canvas and paper respond by looking beautiful but facial artists can connect with their clients in almost magical ways. Clients do what canvas cannot: they share their feelings with the artist, or talk about their families, jobs or pets. The face as canvas always involves relationship. To me that is the ultimate in artistic expression; to create art on a living canvas. A canvas who is encouraged because she sees her beauty reflected not only in the mirror, but in the faces of others.
As a make up artist, I am part artist, part teacher and part encourager. I love to help women feel beautiful and confident; to know that they look their best. My goal is to create a fresh, glowing look; a look that is polished, but not "made up." People often comment to me that even when I do a dramatic look it is still somehow natural.
That is my mission as a cosmetic artist: I strive to have every one of my clients feel that she is still herself, herself at her very best. Success, to me, is to have my clients look at the results of our artistic relationship in the mirror and think, not "who is that woman?, " but, "I look stunning!"
About the Artist
Jodie Hawk originally studied to become a graphic artist. She began her artistic training at the Maryland Institute College of Art in Baltimore, MD. After working in advertising, design, and production, as well as teaching calligraphy, she developed her interest in art as it related to beauty. She began working for Estée Lauder in 1990 as a beauty advisor and then for Lancôme in 1993 as a resident make-up artist at Saks Fifth Avenue. In 1995, she joined the Lancôme team at Neiman Marcus.
She has also trained with Lancôme's former National Artistic Director, Ross Burton, and worked on his Pro Team of artists who assist him during national make up events in specialty and department stores in the Baltimore/Washington area.
Since 2003, Jodie has also worked in the cosmetic dermatology field doing post procedure make up. With her artistic training and almost 20 years of experience in the beauty field, Jodie achieves her distinctive natural makeup style by applying artistic concepts to the human face.
She uses color, shape and light to achieve the result of enhanced, natural beauty; her signature look is a fresh, polished face, rather than a "made up" one.